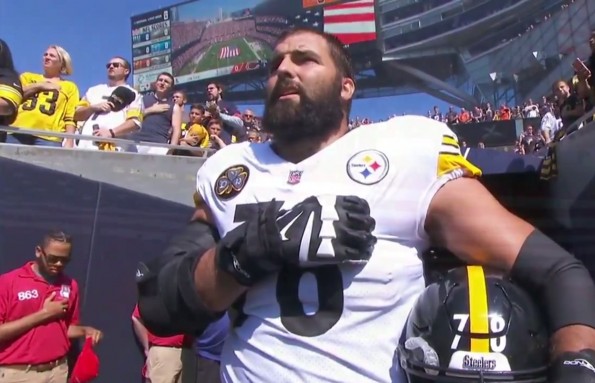 Alejandro Villanueva said he never intended to stand alone during the national anthem on Sunday and apologized to his teammates and coach Mike Tomlin for what he called "a very embarrassing" botching of the team's pregame plan.
"Every single time I see that picture of me standing by myself, I feel embarrassed," Villanueva said.
"We butchered our plan."
President Donald Trump said on Friday that NFL teams should fire players who kneel for the anthem in protest of racial injustice, which led to increased demonstrations across the league and dialogue among teams, including the Steelers.
Villanueva, an Army Ranger who was deployed in Afghanistan, said he asked quarterback Ben Roethlisberger and the rest of the team's leaders to amend their original idea, agreed upon after a Saturday night team meeting, which was to stand in the locker room during the anthem in an attempted show of unity.
Villanueva's suggestion, he said, was to stand with Roethlisberger and the team's other captains at the front of the tunnel. That didn't work out due to, as Roethlisberger said, pregame "chaos" in a small area, and Villanueva was left to stand alone with his teammates about 20 feet behind him.
"The crazy thing about that is, when we came out of the tunnel, we told Al to come stand up front with the captains. Cam, myself and [Tyler Matakevich]," Roethlisberger said.
"When we came out of the locker room into that tunnel, it was a very small area. There was a flag or something coming off the field so there were a bunch of Bears fans, coming off the field holding that [and] going in front of us, so it kind of held us up."
Villanueva took sole responsibility for the mix-up and said that "very few players" knew that he'd planned to head to the tunnel because he went directly to the captains with his idea.
He also made a point to say that he did not take offense to players who have chosen to take a knee during the anthem in protest of "injustices and racial divide," including former 49ers quarterback Colin Kaepernick, who knelt for the anthem in protest of police brutality and racial injustice last season.
"I take no offense," Villanueva said. "I don't think veterans at the end of the day take any offense. They actually signed up and fought so that somebody could take a knee and protest peacefully whatever it is that their hearts desire."
Continually, Villanueva apologized to the rest of the team.
"I made coach Tomlin look bad, and that is my fault and my fault only," he said. "I made my teammates look bad, and that is my fault and my fault only.
"When everybody sees an image of me standing by myself, everybody thinks that the team and Steelers are not behind me, and that's absolutely wrong. It's quite the opposite. Actually, the entire team would've been out there with me, even the ones that wanted to take a knee."
http://www.post-gazette.com/sports/...-national-anthem-protest/stories/201709250175
Last edited: