I am getting back into a 5x5 program after not doing anything for 3 months and am now without a workout partner (aka no spotter).
My current set up is an adjustable bench and a Nautilus squat rack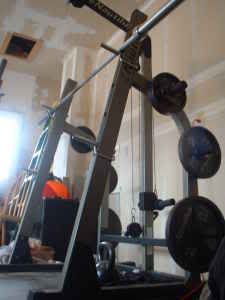 so there is no safety catch to save my ass should I fail on a bench press or squat.
Now, my question is should I spend $80 on adjustable metal sawhorses, which I have read guys on crossfit forums use with success.
Buy a York safety catch for $160 shipped
http://www.amazon.com/TDS-C-93015-W...66NG/ref=sr_1_1?ie=UTF8&qid=1311115595&sr=8-1
OR
buy this Tuffstuff power rack for $225 locally
http://eugene.craigslist.org/spo/2498086778.html
Are there any other options? I have to work out from home because of my schedule/lack of transportation
Thanks