Update: page 5
I've been finishing my basement for nearly a year now. It's been just short of done for the last month. I've been focusing on building the theater and put some of the other basement things on hold.
Basement build thread if anyone is interested
Epson 5050ub projected on a dark gray wall for now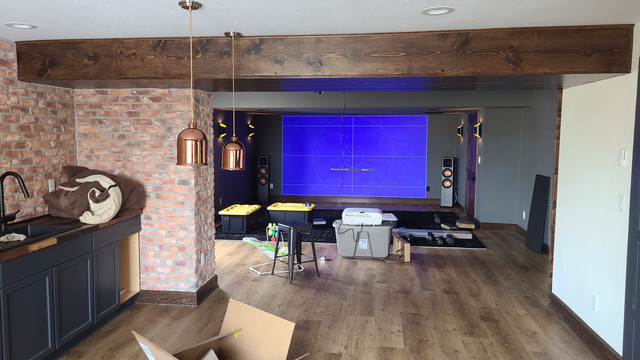 Couch arrived. Daughter amused.
One of my all time favorite Playstation games. Still projected on the wall.
I built this 150" 16x9 frame over the weekend. And the acoustic transparent screen material is going on tomorrow. The frame is made out of 1x4 oak from home depot. It definitely seems over kill, but it's an easy way to get wood that is actually straight.
In media closet is a denon x3600h, ps4, and a chromecast that I got for free. I was planning on getting an Nvidia shield for streaming, but I'm happy with the chromecast for now.
I only have the two speakers at the moment.
Klipsch rp 8000f.
Im going to work my way up to 7.2.
Last edited: