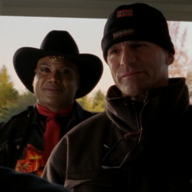 Resident Negro
OT Supporter
Kind of related, finished expanse. It was really good at first and then kind of tapered off.

It feels like it peaked in S3, and S1 was really memorable. Miller is my favorite chatacter.
I'm finally on Book 9 of The Expanse thanks to
@Nikuk
. It would have been a bit difficult to continue the story on TV. I THINK it could have been done though honestly, and a bit more happens albeit at a slower pace.
But your opinion isn't wrong, Book 6/Season 6 was still the apex of the series, they just got cut short in the show. But that scene when they survive Enaros was so well done and translated from Book to TV. The whole series was well done with extremely minor changes other than how they rolled Drummer into one from 3 characters.