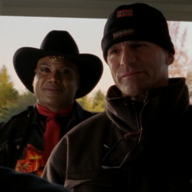 Resident Negro
OT Supporter
i was watching the steve shives vid on episode 2. They were all like, "why did they make worf look so old with the white hair in the show? Dorn looks the same as he did in DS9 they could have just given him the same makeup and he'd look great"
I watch them now too thanks to you.

But they did have a good point, there were much older Klingons depicted in TNG/DS9 that were just as gray-haired as Worf. Could have just given him a LITTLE gray, lol.