Its a hella big rocket

Huge NASA SLS rocket faces critical test firing before moon mission
BY WILLIAM HARWOOD
JANUARY 15, 2021 / 6:59 PM / CBS NEWS
A critical test firing Saturday of the four main engines powering the first stage of NASA's gargantuan Space Launch System moon rocket is the final major hurdle before the fully assembled booster's costly, oft-delayed launch late this year on an unpiloted test flight.
Bolted in place atop the massive B-2 test stand at NASA's Stennis Space Center in Mississippi, the upgraded Aerojet Rocketdyne RS-25 engines are scheduled to fire for a full eight minutes starting around 5 p.m. EST, the same duration needed for an actual flight.
Including shuttle flights and post-shuttle ground tests, RS-25 engines have been started more than 3,000 times to date and fired for more than 18,000 minutes all told, but never four at once and never with a rocket the size of the SLS. The goal is to test the stage's performance as a whole under flight conditions.
"This will be our first test simultaneously firing all four RS-25 engines in this new Space Launch System configuration," said Jeff Zotti, Aerojet Rocketdyne RS-25 program director. "We're all looking forward to seeing the core stage of the world's most powerful rocket fire up for the very first time."
The flight version of the SLS will include two 17-story-tall Northrop Grumman solid-fuel strap-on boosters, each one generating 3.6 million pounds of thrust; the four RS-25s, generating a combined 1.6 million pounds of push; a hydrogen-fueled second stage; an Orion crew capsule and an emergency escape system.
The rocket will weigh 5.75 million pounds, stand 322 feet tall and generate 8.8 million pounds of thrust at liftoff, making it the most powerful operational rocket in the world and the most powerful U.S. rocket ever built. Even more powerful variants are planned by NASA for its
Artemis moon program
, pushing liftoff thrust to a staggering 9.5 million pounds.
For the so-called "
green run
" Saturday, the Boeing-managed SLS rocket's 212-foot-tall, 27.6-foot-wide first stage will be tested as a fully operational booster, loaded with 537,000 gallons of liquid hydrogen and 196,000 gallons of liquid oxygen for a planned 485-second test firing.
With the stage locked down on the test stand throughout, new state-of-the-art engine computers will throttle the main engines down to 95% thrust about a minute into the test. They will do the same during an actual flight to reduce stresses on the rocket when it passes through the region of maximum aerodynamic pressure.........................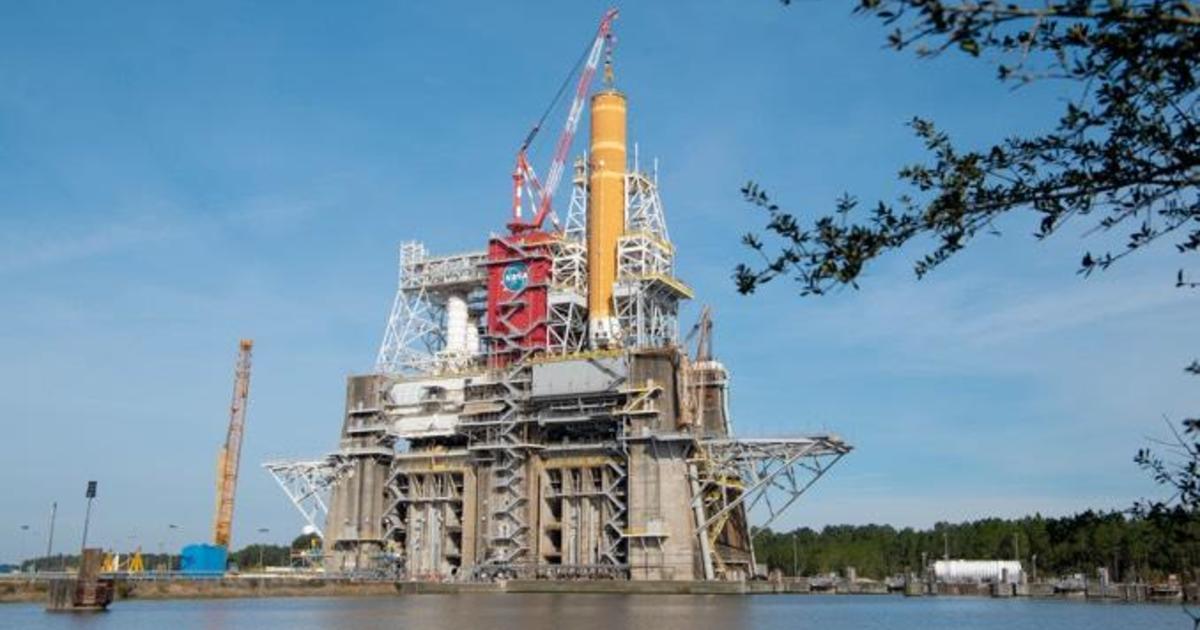 The test firing is a final major hurdle for what will be the most powerful rocket ever launched.
www.cbsnews.com