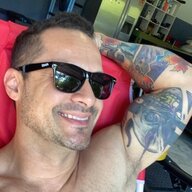 Don't mind me.
OT Supporter
I think I need to refine and change up programming, but not really sure where to start. Started with Pur's routine and swapped out exercises because of bad wrist, back, etc.


The way I typically go is progressive overload 3-4 sets in the 8-12 rep range. When I get up to 11-12 reps on each set, I bump up the weight until I can do 7-8 reps on each set then work up to 12, then start over.
Some iron man shit right there. Respect.
My lady broke her wrist as a kid, so she has to be careful with certain things - you have my empathy there.
I don't know Pur's program so I can't speak to it - regardless, defining your goals is the first step! What are you looking to do?